Aaron Levine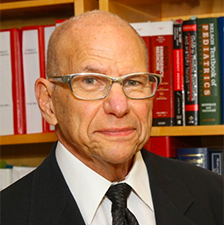 Aaron Levine is the President and principal trial lawyer of the firm Aaron M. Levine & Associates. In his 50 plus years of practice, Mr. Levine has been devoted to consumer rights in the fields of dangerous drugs, defective devices, and medical malpractice. He has been a force in expanding the legal rights of consumers, successfully represented thousands of victims injured because of the negligence of doctors and the exaggerated claims of drug and pharmaceutical manufacturers.
Mr. Levine is certified as a trial specialist by the National Board of Trial Advocacy, and was voted Lawyer of the Year Award from the DC Trial Lawyers Association. His Martindale-Hubbell rating is "A.V.", the highest possible rating. He has been appointed by federal judges and the committee of the American Association for Justice to lead the national battles for victim compensation in the field of DES (diethylstilbestrol), a hormone previously used to protect pregnancy; cardiac pacemakers; Chloroquine, an anti-arthritic drug; Dalkon Shield, or intrauterine devices; and silicone breast implants. Mr. Levine has served as an appointed consumer representative to the United States Food and Drug Administration.
Mr. Levine has prosecuted claims against manufacturers of defective devices and dangerous drugs throughout America, and Belgium, Holland, France, Germany, and Italy. In two mass tragedies, DES and Dalkon shield, Mr. Levine was able to obtain over $80 million in damage settlements for his clients with extensive networks of in-house and consulting specialists in the areas of obstetrics, gynecology, pharmacology, toxicology, pathology, pediatrics, neonatology, genetics, radiology, sonography, epidemiology, neurosurgery, anesthesiology, biomedical engineering, emergency room medicine, and the specialties of diagnostics and drug testing.